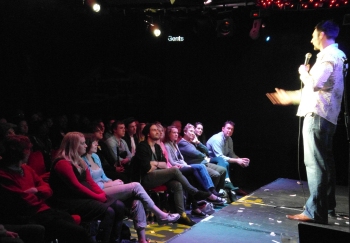 Our regular live comedy courses will return later in the year when it's safe for venues to re-open. New Dates will hopefully be online for September onwards when we know when we can safely return. In the meantime our courses are still continuing online
LEARN THE SKILLS AND ART OF PERFORMING COMEDY - From £75
Laughing Horse Comedy offer a series of highly rated comedy courses to learn or improve stand-up comedy performance.
The courses are aimed at complete beginners, new comedians or those that need help improving after a while on the circuit.
Our popular intensive two day beginners course offers newcomers the chance to learn the basics, and get up on stage and perform their first ever set. It is also suitable for new comics the chance to see how they can improve rapidly. There is also a premium option, giving the student additional personal tuition following the two course days.
The course is currently held online at weekends. Late in the year we hope to return to our live courses, which will be back in London, Brighton, Manchester and Edinburgh. Our Edinburgh Fringe courses will be back at the next Fringe, in 2021.
Watch our main tutor, Jay Sodagar, and several course students talk about the course: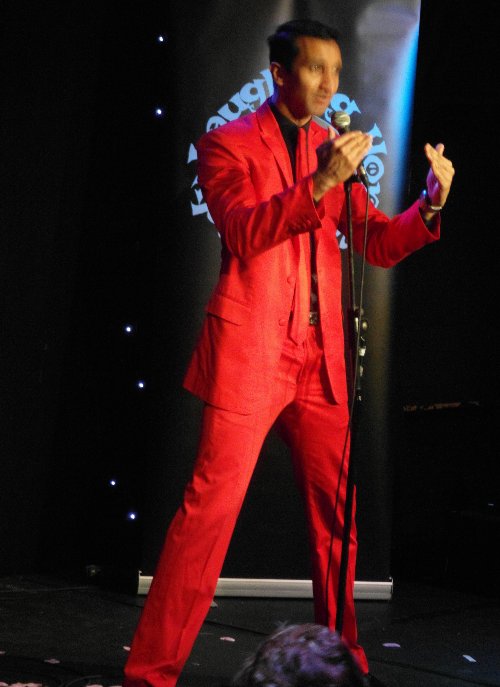 We also offer a longer intermediate course, offering new comedians with a little experience or students who have already attended our beginners course to expand their set, and more time with the tutor.
There is also Personal Tuition sessions for newcomers and comedians, as well as on-going support from professional comedians. And if you are a youngster looking to get on stage, we also run courses for children aimed at 8-16 year olds.
THREE WEEKS REVIEW (2 Day Course at the Edinburgh Fringe): "This course has to be one of the best on offer. The students, including a policeman and a Dutch porn addict (if his act is to be believed), had all travelled into Edinburgh especially for the course. Notable was the relaxed and uncompetitive atmosphere, in no small part down to Kevin, who focused on helping each participant to find a personal style, coached them on how to edit their material and explained how not to fall out with comperes (particularly by not bumping into them on their way on and off the stage). The course culminated in impressive performances that night at a Free Festival venue with radically improved acts... Everyone seemed delighted with the experience. Highly recommended"




Many of our graduates are full-time stand-ups, competition finalists and have been signed by agents, some leading comics to graduate from our course include:
Imran Yusuf completed one of our courses and is now a Edinburgh Award Nominee with a national tour and television credits. Imran completed our Compere course and is now a regular compere at the Comedy Store.
Nat Luurtsema, only a year after her beginners course was signed by Avalon, the UK's biggest stand-up agency and is now performing stand-up full time.
Daniel Sloss, after doing our Edinburgh Fringe 2-day course, has now gone on to international tours, Television appearances and a live DVD.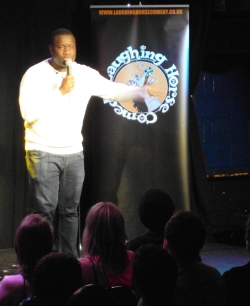 Each course offers time with a tutor, practice sessions and the opportunity of taking part in a series of open spots either across the Laughing Horse's London Comedy clubs, or at the Edinburgh Fringe Festival.
Review of 'Trying 2B Funny' at the Edinburgh Fringe - all of the students had completed a 2 day Laughing Horse Comedy course with Jay Sodagar prior to the Fringe, and all teenagers with no previous comedy experience: "Let's not lie. The title of this show is in no way comforting. As Michael our first teenage comic pointed out, trying to be funny indicates that these kids aren't funny. Which is very far from the truth. They were 100% hilarious. Heatham House is a youth centre for children in Twickenham and surrounding areas, and boy has it done these kids proud. There were a couple of blunders, and not every gag went down well, but I laughed all the way through. Special mention has to go to Esther, rightly the headline act. She was a natural comic, in a way that was refreshing. This was serious talent, watch them now or pay for it later. " - THREE WEEKS




The courses are led by experienced comedy teachers Jay Sodagar (Comedian, and Course Tutor), Nik Coppin (Comedian, Compere, Comedy Tutor and actor), Kevin McCarron (Comedian, Compere, Comedy promoter and University or Surrey and comedy Tutor/Lecturer) and Jojo Sutherland (Comedy Tutor, actress and comedian) - for more information in the tutors, click here.
All of our courses can be packaged to be run at other comedy venues or locations, and if you have a comedy venue or festival that would benefit from comedy courses, please email us on admin@laughinghorse.co.uk to discuss details.
Comedy Course as a Gift - a unique Christmas or Birthday present
Course graduate Ian Angell: "I was really impressed with the weekend you put on. You are obviously very devoted to your craft and that came across with the patience and encouragement you gave us all. The course really was useful and I would recommend to anyone else considering doing it. Also really enjoyed the finale of getting up and doing the act"
You can buy a voucher for our courses - why not give a comedy course as a unique present to someone for their birthday or Christmas?
Comedy courses, and comedy training for use in business development and personal training
We can put together training, or comedy activities as part of your employee or business development, or as part of fun staff days. Click here for more details.