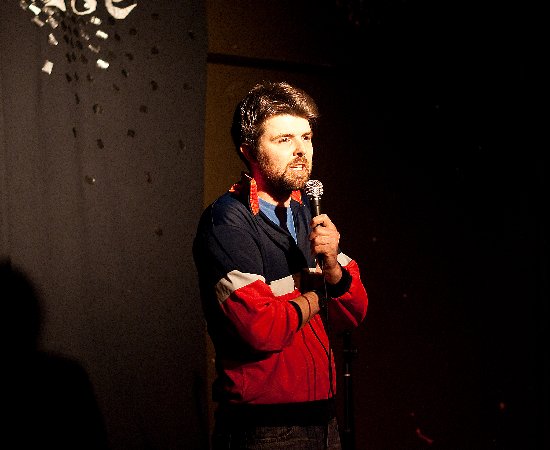 TWO DAY ONLINE BEGINNERS COURSE
Prices - £75 / £65 Students
Courses in groups via Zoom over 2 days, plus an online graduation show PLUS a further live show when we can return to venues.
For More in depth learning, we also have a Premium Course Option for £175/£165 : This offers additional training on top of our two day course.
"I have found the course immensely helpful, as an actor for a number of years with the tutor very supportive and helpful. I have now managed to learn a whole new way to perform in just a couple of days, and will be able to use a lot of the techniques I learnt in my work" - David Watson Live 2-day course graduate
In these unprecedented times comedy has never been more Important. We are going online with our comedy course we have been teaching for 14 years.
The course is exactly the same as the live course and all the exercises are the same - plus an extra module on online comedy.
What makes a good Stand-Up Comedian? Is it a natural talent? Or can you learn how to be a Comedian?
There are many common misconceptions as to how this is done
Laughing Horse have been teaching a comedy course for over 14 years that guides you through a proven process that professional comics use to write, perform and approach Stand-Up Comedy.
This course is not taught by theorists, lecturers or people that have never set foot on a stage. It is delivered by professional comedians who are currently performing Stand Up several times a week.
"friendly, informative and well-structured. A supportive environment allows wannabe stand-ups to develop material quickly, and the course even offers opportunities to perform on stage... A no-brainer for anyone interested in the business, and a fun experience for any weekend wonder whose always wanted to know what it was like behind the mic stand." -Paul Doncaster, Live 2-day course graduate
They have huge experience in teaching this art form and giving valuable feedback, problem-solving and encouraging students to develop their routine. They have a wide-ranging knowledge of the industry and how to make career progress.
The beginners' course is best suited to people who have never performed stand up comedy before, or for new comedians wanting to get a good grounding knowledge of how stand-up works.
The course is very practical and spread over a weekend with a graduation show on the Sunday evening open to friends, relatives and the public is advertised to the general public.
Journalist Marc Iles attended one of our courses - see what he had to say: Click Here. "I would be lying if I said that I had not got the comedy bug... I now feel able to give it a whirl"
Over the 2 days you will cover:
Where material comes from and how to make routines of your own continuously.
How to write material
Practical writing exercises
Learning how professional comics deconstruct comedy by watching and discussing current comedians
Editing and performing material written
How does online comedy work?
How the industry works
"A lot of ground covered in a short space of time. It was brilliant. I now feel I have the tools to go on to be a comic" - Claire Rawlinson Live 2-day course graduate
At the end of the course students perform live on zoom to an audience doing a 5 minute set at the graduation show, this is followed by feedback from the tutor.
Once comedy returns to venues later in the year, there will be additional graduation shows and feedback sessions.
Immerse yourself in Stand Up Comedy for a weekend (There will be homework)
"Your help, support and advice were really great and I had a fantastic time. In fact, it has taken me about a fortnight to "come down" from the events of that weekend, particularly the performance in front of a paying audience at the Quadrant! I felt great and it was obviously a tremendous feeling when people actually laughed at what I had to deliver!! The real triumph for me was overcoming that fear and that is what will stay with me for the rest of my days!! - Paul Collis - Live 2-day course graduate
Previous students from the Laughing Horse Comedy courses include:
All appearing regularly on TV, National tours, Live DVD's
As well as many working comedians around the circuit both in the UK and in America at all levels from open mic to professional.
Take the first step on your stand up career - sign up to the course
PREMIUM COURSE OPTION - £175 / £165
Including everything on our standard Two Day course, plus:
* Book a separate four hour one-to-one tuition session with the course tutor, after the 2-day course, practising your routine and developing further ideas
* In depth feedback from your graduation show performance
* Additional help with your performance
* A booking at a second Laughing Horse show with a further 15 minute feedback session straight afterwards
Booking Information
The dates this course is currently available are below, and can all be booked online. Prices are £75, or £65 concession. If you would like to pay by bank transferplease contact us on admin@laughinghorse.co.uk. Also drop us an email if you have any more questions. For more information on our tutors - click here
Upcoming Dates - Book your course
Click 'Book tickets' to book your tickets, and click on the venue name for the venue details.
2020
ONLINE BEGINNERS COMEDY COURSES
Main times are UK times - GMT
NOVEMBER
Sat 14 /Sun 15 Nov - 2 Day ONLINE COURSE - 11am - 4.30pm each day - CLICK HERE TO BOOK
Australia WA 7pm/SA 9.30pm/VIc 10pm start time
DECEMBER
Sat 5th/Sun 6th - 2 Day ONLINE COURSE - 6pm - 11pm each day - CLICK HERE TO BOOK
USA East Coast 2pm/West Coast 11am start time
Sat 12 /Sun 13 Dec - 2 Day ONLINE COURSE - 11am - 4.30pm each day - CLICK HERE TO BOOK
2021
JANUARY
Sat 9 /Sun 10 Jan - 2 Day ONLINE COURSE - 11am - 4.30pm each day - CLICK HERE TO BOOK
Australia WA 7pm/SA 9.30pm/VIc 10pm start time
Sat 23rd/Sun 24th - 2 Day ONLINE COURSE - 6pm - 11pm each day - CLICK HERE TO BOOK
USA East Coast 2pm/West Coast 11am start time
FEBRUARY

We'll have more courses online each month from February onwards and through 2021 - both early and later times to suit students around the globe.

Dates will be added in November.
LIVE BEGINNERS COMEDY COURSES
The live courses are unfortunately postponed until further notice.
As soon as we know when these can resume safely in a venue allowing us to get students into a room, then we'll put the details here.
We are aiming for the first live course to be in Spring 2021 when hopefully government restrictions will allow
. Of course this is all very much dependent on outside factors, the spread of Covid and changes to the 'rule of 6' to allow more than 6 people indoors in a venue.
If you have a voucher for a beginners course, you can also use this on an online course.
Online course students will also be invited back to an in-person graduation show once the in-person courses can resume.
Gift Vouchers are available - Live course prices - Valid for 2 years for both online and live courses.
2 DAY (LIVE OR ONLINE) BEGINNERS COURSE VOUCHER valid on any scheduled Laughing Horse 2-day stand-up comedy course.

Full price, concession and Premium Options available
BEGINNERS (LIVE OR ONLINE) & INTERMEDIATE COURSE PACKAGE (15% Off)

valid on any scheduled 2-day beginners course, followed by any scheduled 4-day intermediate course